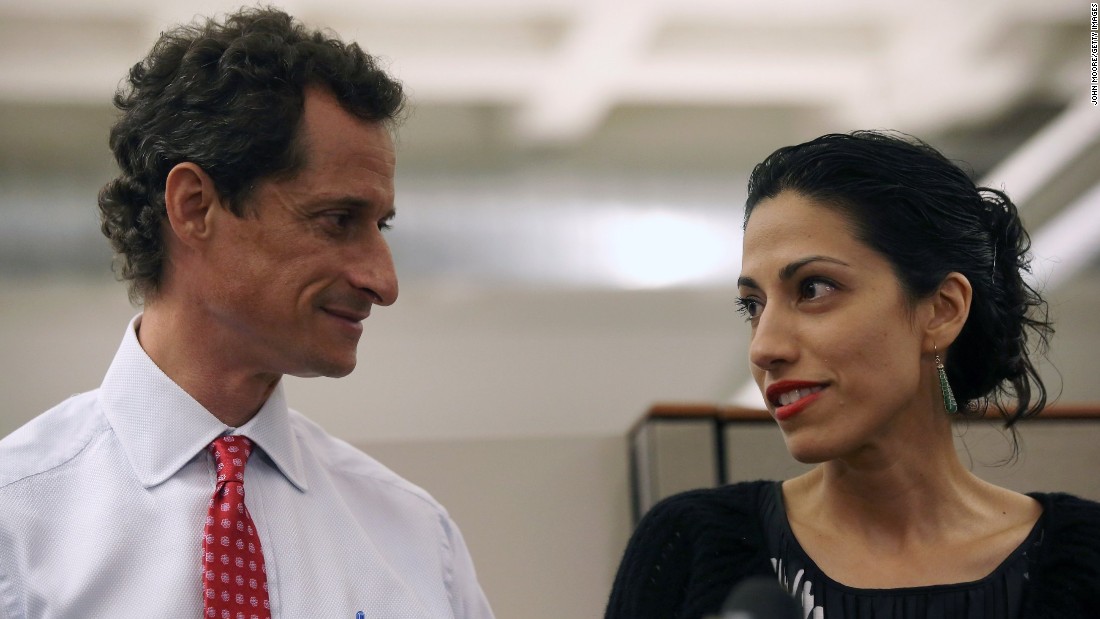 One of the most important, intriguing, and mysterious aspects of the 2016 Elections is the Abedin-Weiner emails affair and directly connected with it, Mr. Comey's October 28 "surprise" Letter, which most likely changed the voters' mood and attitude, and most likely changed the outcome of the Elections. "Weiner did not deny sending the messages to the girl, but claimed he was the victim of a 'hoax.'" The "Weinergate" was perceived as "the strange scandal" by some media outlets.
My personal (and I would guess, many other people's as well) impression, at the time of these events and now, is that Abedin-Weiner emails affair was the FBI "sting operation" (inspired by the foreign – Russian?! – actors?!), conceived and conducted with the clear political purpose of discrediting Mrs. Clinton.
"What better way to keep the ball rolling then some sort of sting operation, to get access to Huma. I Feel something we aren't being told is going on behind the scenes, and this just a cover story for what is really happening."
The information about the "Weinergate" on the Internet includes the significant amount of the blatant disinformation, with the interpretation of the events turned in the directly diametrical, opposite direction and repositioned upside down from the feet to the head. This style suggests that this disinformation might be of the foreign origin, which indicates the importance of these issues and events for the hypothetical foreign operators.
"A Scandal Exposed by Patriots to Prevent a Clinton Presidency… Just like Watergate, Operation Weinergate was implemented by those closest to the Democratic nominee… Counter-Coup by White Knights in the Intelligence Community in Progress…
It ought to be apparent to any observer that this entire string of scandals was manufactured by those who wished to send a message — LOUD & CLEAR — to the Clinton clan that their time is up. The very same message was delivered to the Bush Crime Family by Donald Trump, whereupon Jeb Bush quickly exited the presidential race."
The former FBI officials, besides its acting members, such as Mr. Kallsrom, and the persons very close to the FBI, such as R. Giuliani, most likely know much more about it than we do, or probably even more than the Congress knows at this point. I think, in my humble opinion, that the Abedin-Wiener emails affair and the circumstances around the October 28 Letter should absolutely be the subject of the investigation by Inspector General Michael Horowitz and other active investigative bodies. This aspect could shed some light on the issue of undue, politicized FBI's involvement in the elections.
Anthony Weiner was one of the first persons who mentioned the connection between the Trump's financial difficulties and his ties to the Russian mafia and the oligarchs, and the Weiner's troubles and the blown out of proportions "scandal" started soon after these public revelations. Please, read my previous posts on these subject and do your own research also.
"The reason he loves Putin, we know this now. The banks no longer loan him money because he's a terrible risk. So he goes to these (Russian) oligarchs and borrows money. He knows the end game is coming for him. He's thinking about who he wants to ingratiate himself (with). We have a presidential candidate who is literally kind of approaching Russia on his knees because he needs them to loan him money."
After Weiner's opinion was published, he was promptly attacked by Trump, who called him a "sleazeball and pervert."
This presumed "sting operation" against Weiner might be viewed as an attempt to silence Weiner by the FBI and to prevent the public airing of Weiner's opinions about Trump and his connections with the Russian oligarchs.
Disclose the parts of the FBI's Anthony Weiner file under the FOA which are relevant to this subject!
Now Weiner is bound by the FBI's gag rule, as the condition of his sentence. Rescind this condition, and let him testify openly and fully. These issues are too important for the investigation and for the future directions of the corrective measures to disregard or omit them, they should be the important part of Mr. Horowitz' activities and report.
Investigate the "investigators"!
Save America!
Reform the FBI! 
_________________________
Links 
Inspector General Michael Horowitz is expected to make his first public statements about the Justice Department's Office of Inspector General's little-noticed investigation looking into several key issues in the Russia saga stretching back to before President Trump's inauguration when he appears before the Senate Judiciary Committee today, Josh Gerstein reports at POLITICO.
Inspector General Michael Horowitz has offered few public indications of the status of his probe, which some lawmakers said he initially told them was expected to be complete by early next year | J. Scott Applewhite/AP Photo
Amid criminal and congressional Russia inquiries, Justice's internal watchdog is quietly running its own review of issues linked to last year's election.
Updated
2017-07-25T07:45-0400
With special prosecutor Robert Mueller's criminal inquiry into Russian meddling in the 2016 election now well underway and at least four congressional probes ongoing, it may seem like every aspect of the controversy is already being closely scrutinized.
But there's also a less-noticed investigation by the Justice Department's Office of Inspector General, which has been exploring several issues key to the Russia saga since before President Donald Trump's inauguration.
Story Continued Below
Inspector General Michael Horowitz has offered few public indications of the status of his probe, which some lawmakers said he initially told them was expected to be complete by early next year. On Wednesday, he's likely to make his first public statements at a hearing in front of the Senate Judiciary Committee about the status of his inquiry – and whether he'll acquiesce to any of the many requests from Republicans and Democrats to expand his review to include the firing of former FBI director James Comey or other developments.
"I think he'll find a way to engage with the committee on that, while still being a little bit cagey," said Michael Bromwich, who served as Justice's inspector general from 1994 to 1999.
About a week before Trump's inauguration in January, Horowitz announced a multi-faceted probe, focused primarily on whether Comey acted properly in his handling of the FBI's investigation into classified information found in Hillary Clinton's private email account.
The inquiry has examined Comey's decision to make a public statement about the closure of the investigation in July 2016 and to send politically explosive notices to Congress about developments in the case just before Election Day.
Horowitz also announced a determination to try to get to the bottom of election-season leaks from the FBI and the Justice Department, as well as claims that FBI Deputy Director Andrew McCabe's judgement in the email probe and other matters may have been tainted by financial support his wife received in a state Senate race from Gov. Terry McAuliffe (D-Va.), a longtime Clinton backer.
Trump has raised that issue repeatedly in recent months, including in tweet on Tuesday morning.
"Problem is that the acting head of the FBI & the person in charge of the Hillary investigation, Andrew McCabe, got $700,000 from H for wife!" the president wrote.
In recent months, Horowitz—an Obama appointee who previously worked in top roles at the Justice Department under Presidents Bill Clinton and George W. Bush—has been on the receiving end of a slew of letters from lawmakers and interest groups, asking him to expand the scope of the inspector general inquiry.
In February, the then-chairman of the House Oversight and Government Reform Committee, Rep. Jason Chaffetz (R-Utah), and the chairman of the House Judiciary Committee, Rep. Bob Goodlatte (R-Va.), asked Horowitz to look into leaks of classified intelligence intercepts about National Security Adviser Michael Flynn.
In March, several Senate Democrats led by Sen. Dianne Feinstein (D-Calif.) asked the inspector general to explore Attorney General Jeff Sessions decision to recuse himself from the Trump-Russia inquiry.
Later that month, Sen. Chuck Schumer (D-N.Y.) urged Horowitz to look at whether White House officials pressured the Justice Department to drop the FBI's investigation of ties between Russia and the Trump campaign.
In May, Chaffetz asked the inspector general to investigate Trump's firing of Comey.
And last month, more than 30 House Democrats asked Horowitz to consider whether Sessions violated the terms of his recusal by taking part in Comey's dismissal.
"One of the first things an IG has to do when lawmakers want you to jump is to figure out how high to jump," said Bromwich, who runs the Bromwich Group consulting firm and is senior counsel at law firm Robbins Russell. "You've got to make careful discriminating judgements about what you do. I think Horowitz and his staff will make individual judgements about what is fairly included or can be fairly included without taking him down a rabbit trail."
A spokesman for Horowitz declined to comment this week and has repeatedly rebuffed questions about the status of his inquiry. In a recent letter obtained by POLITICO, the inspector general alludes to the possibility that Mueller's May 17 appointment as special counsel could impact and perhaps even limit what the Justice Department's permanent internal watchdog office can do.
Horowitz's letter, sent to Democratic senators more than four months after their request on Sessions' recusal, notes that Justice has "appointed a Special Counsel to investigate allegations regarding the Russian government interference in the 2016 Presidential election and related matters."
"We are continuing to assess what, if any, additional review would be appropriate for the OIG to undertake and will update you as appropriate," Horowitz wrote on July 14, days before he was first scheduled to testify to Senate Judiciary.
The inspector general's response raises the question of whether Mueller and Horowitz are coordinating and whether the inspector general may be asked to step back in certain areas while given the green light in others.
A spokesman for Mueller declined to comment for this story. Horowitz's comments at the hearing may also give hints into what Mueller is up to.
For instance, it seems certain that Comey's firing is now under examination by Mueller, but it's less clear whether the special prosecutor will seek to explore in detail Comey's explanations for his actions in the Clinton email probe.
"Some of the details of the probe now seem to overlap at least somewhat with what Mueller is doing," Bromwich said. "I'm sure they've talked and Mueller's criminal investigation would take preeminence and I'm sure Michael will defer to some extent to him."
At a hearing just days before he was fired, Comey said he welcomed the inspector general investigation into his decisions.
"Yes, I've been interviewed. The Inspector General's inspecting me look and looking at my conduct in the course of the e-mail investigation, which—I know this sounds like a crazy thing to say—I encourage," Comey told the Senate Judiciary Committee on May 3.
Comey also pointed to one key feature of an inspector general inquiry: unlike a criminal investigation, it traditionally culminates in a public report.
"I want that inspection because…I want my story told because some of its classified but, also, if I did something wrong, I want to hear that. I don't think I did, but, yes, I've been interviewed and I'm sure I'll be interviewed again," the then-FBI chief said.
At a committee meeting in May, Sen. Chuck Grassley (R-Iowa) said Horowitz had assured his staff that the investigation would move forward, despite the fact that Comey's dismissal obviated the possibility of any punishment for violating department policies or regulations.
"Through my staff, I had conversations because we had heard that because of Comey going that he might not continue that investigation," the Iowa senator told colleagues. "He's informed me that he was going to continue the investigation and, if there was any attempt to stop him from continuing that investigation, he's going to let the whole world know."